Magnolia geurolie, 1/2 fl oz (15 mL) Druppelfles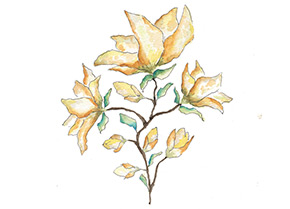 One of our favorite florals, this oil will remind you of freshly bloomed magnolia trees on a warm morning in the deep south… Southern Magnolias (Magnolia grandiflora) are large flowering evergreen trees that typically reach a height of 90 feet. Usually planted as an attractive ornamental centerpiece, they boast dark green leaves and lush, white flowers, the scent of which has earned magnolias praise for centuries, and a scent we've expertly captured in our Magnolia Fragrance Oil!
Fragrance
Floral and fresh scent with lush creamy notes of lemon
Flash Point
234°F
History of Magnolia
Found growing along bodies of water and in swamps from the Himalayas through China and Japan, and across the southeastern United States, magnolias have earned a spot in human history thanks to their delightful aroma and attractive appearance. Did you know? Magnolias are one of the most ancient flowering plants, growing at the same time as dinosaurs! These trees came into existence long before bees, and were therefore pollinated by beetles, who sought out the flowers for their sweet nectar—and still do to this day!
How to Use Magnolia Oil
Add the lush, creamy aroma of magnolia oil to your candle making, incense, potpourri, soaps, deodorants and other DIY products!
To learn how to make your own unique homemade candles using Magnolia Oil, check out this simple step-by-step on The Pipe Line!
Piping Rock's Promise:
We proudly offer you everything you need for an advanced, daily Aromatherapy regiment at the lowest cost in the industry! From Essential Oils to Carrier Oils, Diffusers to Blending Bottles, Beeswax, Books & more, we have you covered. With over 100 Essential Oils to choose from, you can create your own homemade scents and beauty products. Enjoy various blends & Essential Oils Sprays or experience our revitalizing, botanical Massage Oils!
About Piping Rock's Quality:
You've found your One-Stop-Shop for Aromatherapy products at Piping Rock. Our Essentials Oils are crafted in our own "GMP Certified" manufacturing facilities. We verify Piping Rock products with third-party, FDA-registered agencies to ensure quality. Each product goes through hundreds of checks, in-process and post-production. Our outstanding Essential Oils are GCMS tested to deliver guaranteed purity. We offer various 100% Pure Essentials along with other popular, unique blends. We guarantee purity, potency, safety and innovation in everything we do.